Commercial Humidification

Quality Climate Control - Denver, Colorado
Proper humidification saves cost
You would not think that using or eliminating water with small amount of electricity would actually reduce your energy consumption, but it does! There are many reasons to humidify or dehumidify a commercial space including protection of wood surfaces, open air seating that needs to be cooled, high restaurant humidity affecting food production, or even pre-cooled air conditioning condensers. If you are interested in learning how humidification can help your bottom line, call us today or click here!
It is very dry in my building, more than it is outside
Well, there are three ways dry air enters your building: opening doors, leaking through walls/windows, and combustion air. When this dry, contracted air enters the building in the winter it has a low saturation point to begin with; not to mention that its relative humidity is low. Eventually this air will become heated along with the rest of the air in your building. When this occurs the air will expand and although the amount of water vapor will remain the same the saturation point will raise, thereby lowering the relative humidity and making the air FEEL dryer. This can affect the integrity of the building , the comfort of the staff, or the comfort of your customers.

---
Call us now to learn how we insure the lowest cost for the BEST service!

720-323-2716
Fast! 24 Hour
Emergency Service Available
QCC - Quality Climate Control insures professional service technicians that will be Quick, Clean, and Colorado Certified.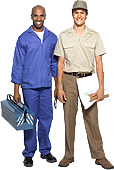 We know that Colorado residents depend on quality, safe Humidification systems that maintain a consistent and healthy level of indoor humidity. If you are experience a dry indoor climate, we can help you find the most affordable way to upgrade your current system.
Colorado's dry climate can lead to worsened allergy systems, compromised immune systems, and other health issues related to breathing, skin, and compromised general health.
WE CAN HELP!
We are available for over the phone consultation and estimates. Our service technicians are ready to provide onsite estimates at your request.
contact us...
Customer Testimonials
Here are some customer comments regarding QCC's on-the-job performance:
"[A technician] talked me through the furnace & thermostat wiring over the phone. Another [company] said they'd get back to me and didn't, and a third [company] told me my furnace was too old to have the fan run separately without even seeing it! He was wrong and I'm glad I didn't listen!" - Denver, CO
read more...