A Few Words About

Quality Climate Control - Denver, Colorado
If we had no other goal at Quality Climate Control it would be to have a 100% happy customer base. We have found through years of service and installation that even when a customer is under warranty and not being charged for a repair they are seldom happy. The inconvenience of having to take off work, being too cold or too hot, and the hassle of scheduling and appointment all make up one unpleasant situation. As a heating and air conditioning company the situation is no more pleasant as we are legally and ethically obligated to fix a failed piece of equipment at our cost.
Factory Dealer for Carrier.
We are also trained to service and repair all major manufactured systems.
Our licensed heating and cooling specialists receive the most thorough and up-to-date training available. Whether it's an emergency service call or a routine maintenance visit our technicians are always prompt, completely professional and committed to your complete satisfaction.
At Quality Climate Control, we understand that your heating and air conditioning system is more than a mere convenience. Anyone who's experienced a system failure knows how uncomfortable and frustrating it can be. During times of extreme temperatures such a failure can actually be a health threat and any business owner knows that a comfortable work environment is essential to the productivity of their business.
Let Quality Climate Control help you avoid unexpected and costly system failures with an annual maintenance contract. Through our regularly scheduled system inspections and maintenance procedures we keep your system working efficiently and can diagnose minor problems before they become major ones.
We offer a variety of maintenance services designed to address your unique needs and our rates are among the most competitive in the industry. Call us today for an initial system check up and get the peace of mind that comes from knowing your heating and air conditioning system is working as effectively and efficiently as possible. Please Contact Us Today to schedule and inspection of your system.
---
Call us now to learn how we insure the lowest cost for the BEST service!

720-323-2716
Fast! 24 Hour
Emergency Service Available
QCC - Quality Climate Control is the name to trust in an emergency.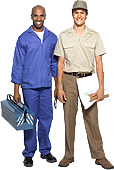 At Quality Climate Control, our licensed service technicians have the knowledge and experience to quickly diagnose and repair your heating and cooling system.
contact us...
Customer Testimonials
Here are some customer comments regarding QCC's on-the-job performance:
"[A technician] talked me through the furnace & thermostat wiring over the phone. Another [company] said they'd get back to me and didn't, and a third [company] told me my furnace was too old to have the fan run separately without even seeing it! He was wrong and I'm glad I didn't listen!" - Denver, CO
read more...